50 50 Draw Result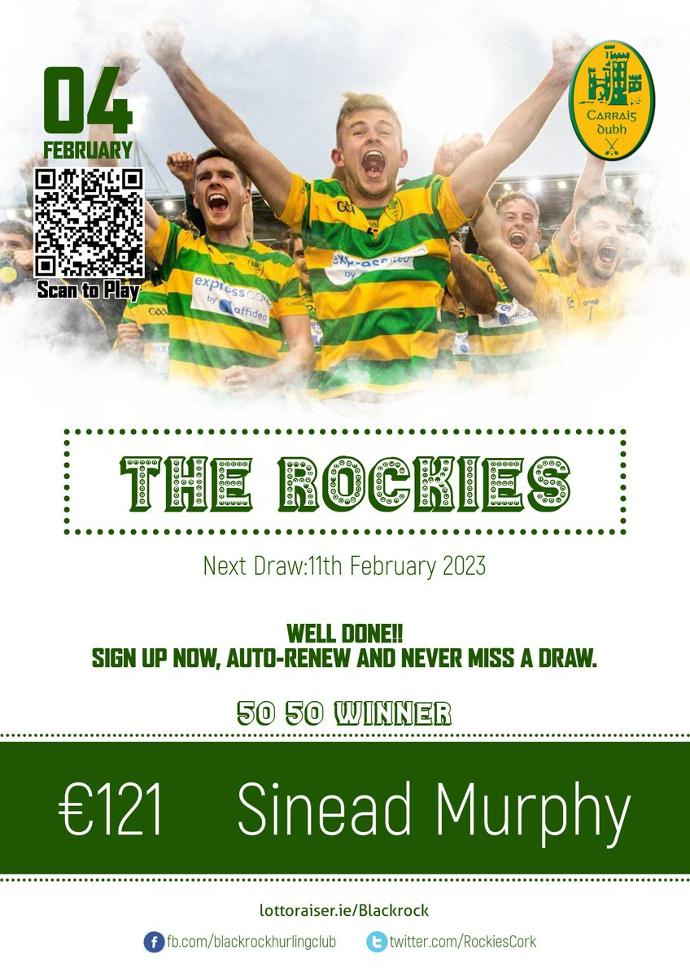 Club Notes​

The official twitter page of Blackrock National Hurling Club is the best way to see up to date Rockies News, Results & Fixtures

Click on Club Notes page for details of the items listed below and past notes.
Fr Der Leahy celebrates 70 years of Priesthood

Blackrock and St Michaels came together to acknowledge that achievement and make presentations to Fr Der in the hurling club
See Photos for photos from George Hatchell
New Articles written by Peter Devine on the Club's History

The latest article covers the Blackrock Seconds Matches 1890-1908.
See History page for the Articles
Upcoming Events

Rockies Academy
We're looking forward to welcoming the kids and their families back to the Rockies Academy on Saturday January 21st!!!

New members always welcome!!! A great place to make friends, have fun and get active!!! ​
Membership

Annual Club Membership is now due. See Membership Page for details

Trad Music in Club Bar
Trad Music is being played every Sunday from 4.30pm to 7.00pm in the Club Bar. All welcome.


Reminder, the stadium will open at 4:30pm this evening ahead of Allianz Hurling League Round 1 game at 7.30pm. Ahea… https://t.co/O3Vnv6EvoD
Tomorrow, Cork v Kilkenny U20 Hurling Match @ 5:30pm & Cork v Limerick in R1 of the AHL Division 1A @ 7:30pm in… https://t.co/MjyqZsMcp5



Co-Op Superstores Munster Hurling League Final Cork v Tipperary takes place today at 3:00pm in Páirc Uí Rinn. Pleas… https://t.co/QtL3xNaZPV

@RockiesCork Thanks lads 💚💛Best of luck for the season ahead!

Delighted to take up the role of PE teacher in ICS Dunbar. A new challenge! 🇨🇦 First stop, working on FMS. Next sto… https://t.co/973Q82RUaz