50 50 Draw Result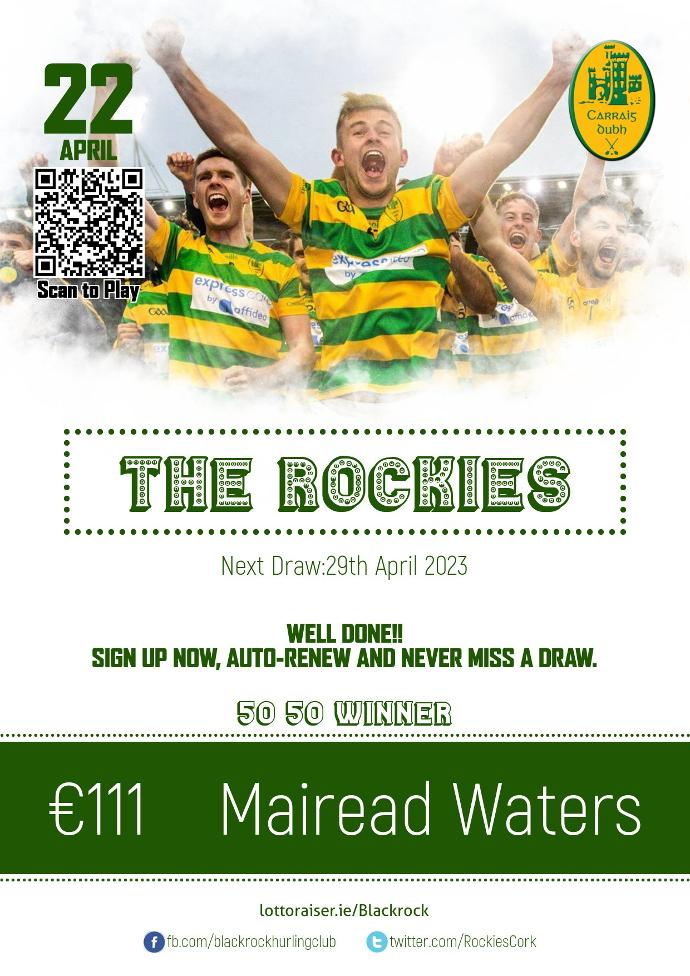 Upcoming Events ​

Membership
Annual Club Membership is now due. See Membership Page for details
Derry Quest
The Derry Quest will take place this June Bank Holiday weekend. Please support as Mick and Nigel make the epic journey from Blackrock to Derry to raise funds for our underage teams playing Na Magha Click here for fundraising link


50 Year Anniversary Book
documenting the 1971 Cork County Senior Hurling Championship and other interesting facts about The Rockies. Copies available @ €11.00 each from Roger @ 087-2944821.




Super Saturday at Church Road 💚💛 Our under 7's enjoyed a fantastic blitz & our under 10's had the perfect start to… https://t.co/cMJq0H6tTL



Don't let minor Knee injuries hold you back. Knee injuries are the most common injuries presented at Affidea Expres… https://t.co/eZdPWG7IoH
Our ExpressCare clinics are open 7 days a week to look after your minor injuries or illness. No appointments necess… https://t.co/hTb4IltPjX
Busy weekend for our underage groups 🟢🟡 Well done to all our teams who were in action and thanks to our hosts… https://t.co/s6aQSLTo4G
Introducing the Toyota bZ4X: Where Style Meets Electric Power! 🚗 Get Behind the Wheel of Toyota's All-Electric SUV,… https://t.co/mJnqJsqgSw
One of the highlights of our Easter Camp was a visit from Hayley Ryan, Blackrock and Cork Camogie player & Rockies… https://t.co/y5bugfVXe9

Please note that all our ExpressCare Clinics will be open throughout the Easter Bank Holiday for all your minor injuries and illnesses.